Packing tips for moving house
Make light work of moving your belongings with a Luton box van
Moving house can be an exciting but stressful time. When it comes to relocating, preparation is key! So where do you start? In this guide, we share our packing tips for moving house; from what to pack first to helpful packing hacks and how to simplify the process, we've got you covered.
Discover why choosing a Luton box van could prove your most convenient option when moving house and how you can hire one from us. Read on to find out more…
How long before moving house should you start packing?
First thing's first, when should you start packing? Leaving things to the last minute can be risky and lead to breakages if you're not careful. Between one and two months is generally considered an ideal timeline to start packing - although it's never too early to get things in order!
Our top 10 packing tips for moving house
Once you've established a packing timeline, you can really start planning your house move. Put a clear process in place and stick to it for the most efficient packing solution before making the big move. Here's our top 10 packing tips for moving house:
Start by making a checklist of what needs packing up per room

Prioritise what can be packed first, and what needs to be left until the end

Take the opportunity to clear out items you no longer want or need

Order boxes and bubble wrap in plenty of time

Pack room by room starting from the top down

Label every box as you pack so you won't be left wondering what's inside when you get to the other end

Avoid overpacking boxes and instead opt for a larger amount of smaller ones

Label large items such as furniture, to identify what room these will go in at the other end

If you're taking kitchen appliances with you, then consider if you need a qualified engineer to help disconnect and move these

Remove individual drawers from chests and wardrobes to make them lighter for loading and more stable during travel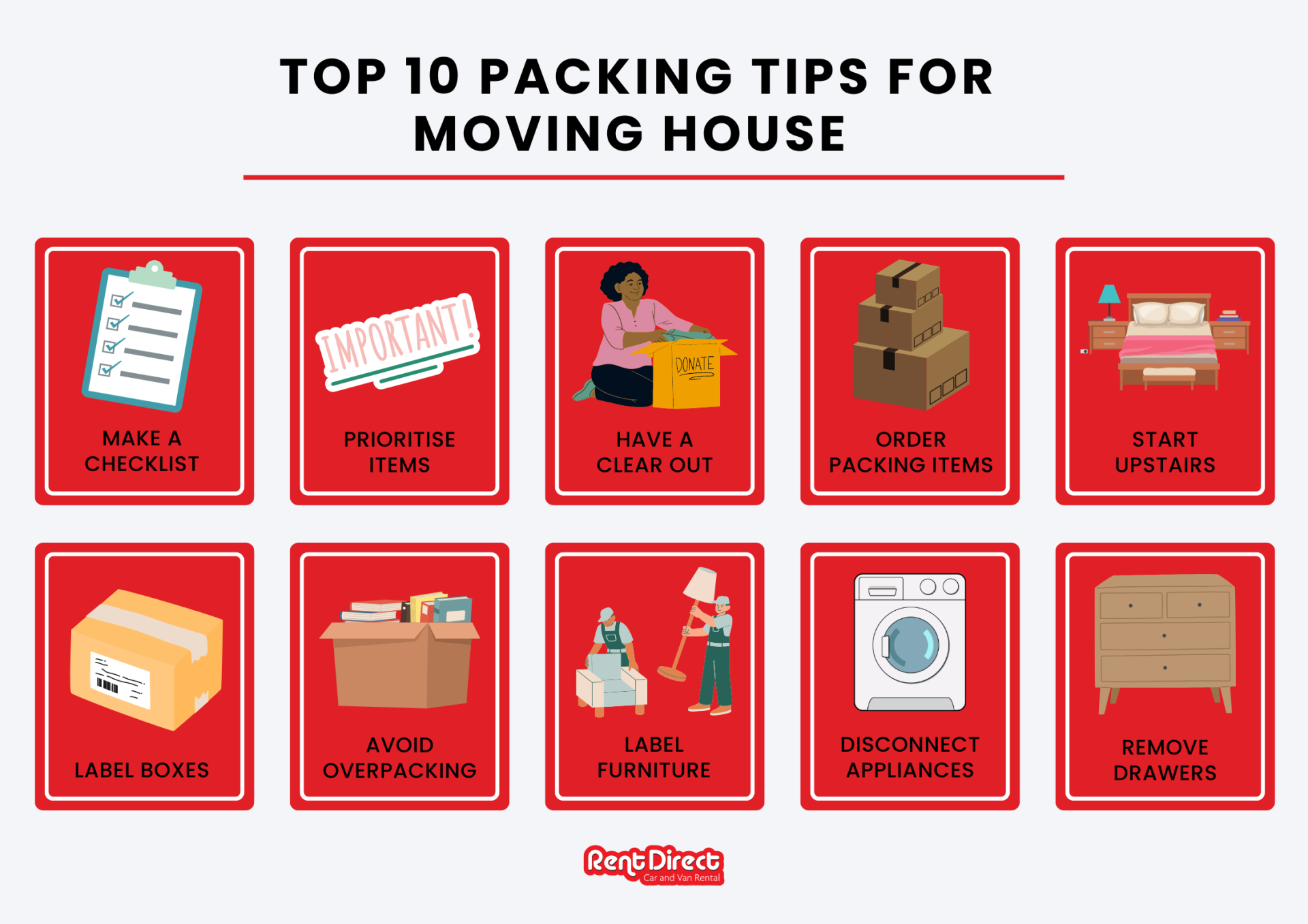 What is the best way to pack when moving house?
Any seasoned house mover will advise you to begin at the top of the house and work your way down (from the attic to the cellar!). Tackle the toughest rooms first to get them out of the way; if you've not been in the loft for years, then you may need to spend time working out what you're keeping or throwing away.
How do I know what to pack first when moving house?
When it comes to what to pack first, start by packing away seasonal items. A house move during the summer means you can pack up winter coats and boots, whereas when relocating in winter, the summer holiday wardrobe can be safely stored away.
The kids' rooms are often full of toys, books and clothes, so consider what items aren't used as much and pack them away first. Other than that, it's the non-essential items which will need packing first-off ready for a house move, such as ornaments which should be properly wrapped up for safe onward travel.
Packing tips for moving in a hurry
Sometimes, no matter how much you prepare, it may be that a quick move is needed. When moving house in a hurry, efficiency is key - our top tips include:
Keep clothes on hangers, cover them with a large bin bag and tie them around the middle with a belt so they can be moved in sections

Delicate ornaments or glasses can be wrapped in towels and clothes (such as t-shirts) which will not only save you money and time, but minimise the amount you need to pack too

Tape your storage boxes in an 'X' design underneath to help make them stronger when carrying and loading in a rush

You can also mark glass items - such as mirrors - with an 'X' in tape across the centre to help prevent breakages

Pull-along suitcases can double-up as a great way to move heavier items

Assign yourself a 'moving day' box of your essentials (the ones that you'll need to carry on using up until the exit date)
What are the do's and don'ts of packing boxes?
A badly packed box can cause all kinds of problems on moving day. Help your house move goes as smoothly as possible by reading our 10 DO's and DON'Ts of packing boxes:
| | |
| --- | --- |
| Packing boxes DO's | Packing boxes DON'Ts |
| DO pack heavier items at the bottom followed by lighter items on top | DON'T overfill boxes so they become too heavy and break |
| DO wrap fragile and delicate items so they are well protected | DON'T pack away everyday items or essentials until last |
| DO use old newspapers, towels and clothes to fill any space, which will keep items secure | DON'T risk spillages from liquid items by wrapping them in cling film first |
| DO tape boxes top and bottom | DON'T leave things dirty or dusty as this could mark other items during the move |
| DO label boxes so you know what's inside | DON'T pack important items (such as passports and keys) and take them with you in hand luggage instead |
Why choose a Luton van for moving house?
When it comes to moving house, the ideal load carrier for the job is a Luton van. Sometimes referred to as a Luton box van, a Luton van tends to have a larger load capacity thanks to its square 'box like' design. As such, they are very much a go-to vehicle for house movers, and are also available with a tail-lift to make light work of heavy loads.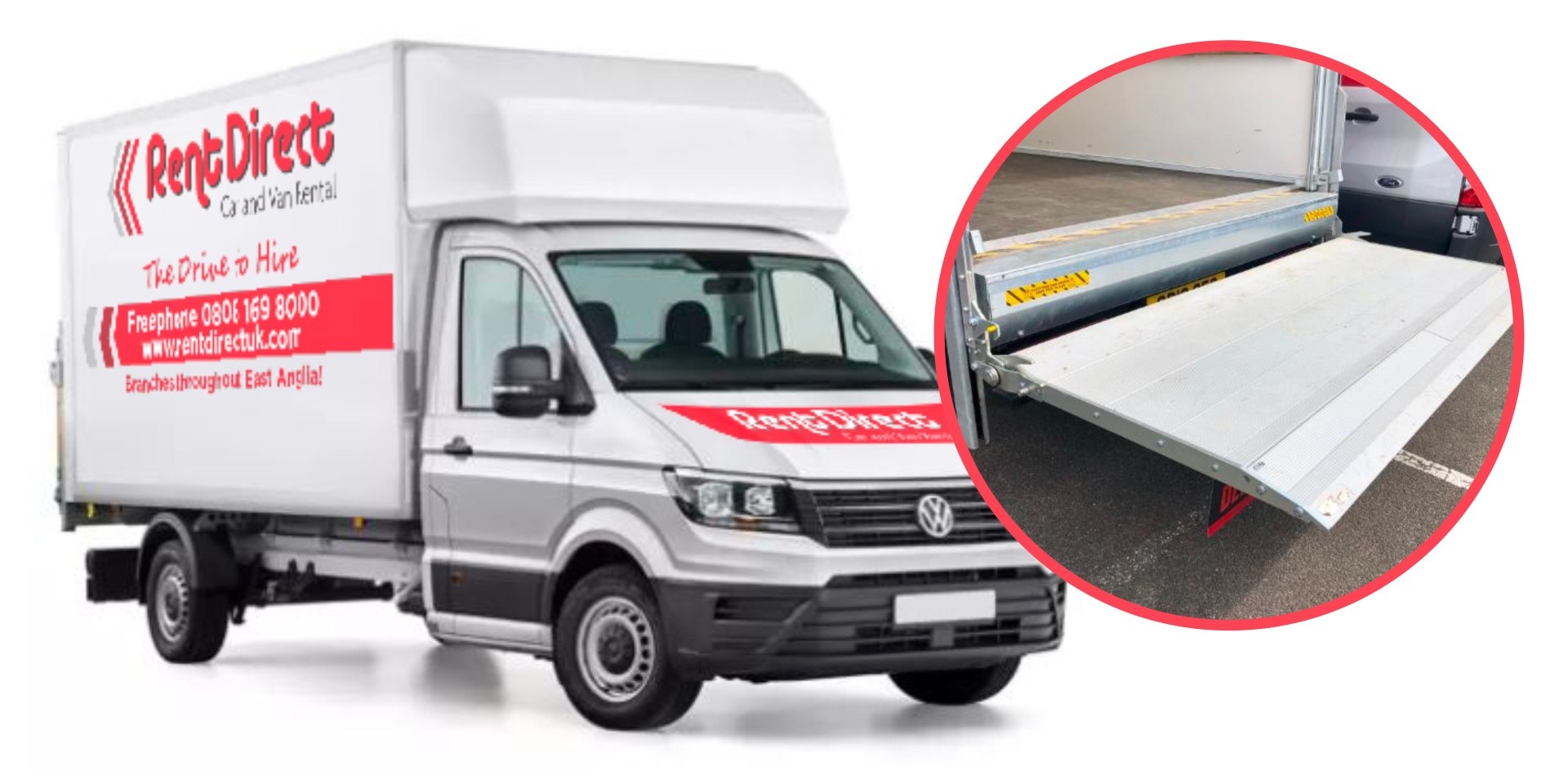 Luton van with tail lift hire in East Anglia
Here at Rent Direct, we can help you move house thanks to our fleet of Luton box vans complete with tail lift. Available to hire at each of our six branches across East Anglia, a Luton van is the ideal size for loading and transporting items.
Benefit from an additional tail lift at the rear of the vehicle which will do the heavy work for you thanks to its hydraulic mechanism. Luton vans can be driven using a standard UK driving licence and the cabin will comfortably carry up to three adults.
Hire a Ford Transit Luton van (or similar) from a Rent Direct branch where you'll have the option to add a sack trolley to your booking which will help make your move simpler and stress-free. Visit our Van Hire page for more details where you can also book a Luton box van online for ultimate convenience.