What is the best way to load a moving van?
Transportation tips for items heavy or light, large or small!
Whether you are packing a van ready to move house or simply transporting bulky items from A to B, you'll want to load a moving van efficiently and safely too. Believe it or not, there is actually a 'proper' way of loading a moving van which we explain more about in this helpful guide…
What is the best way to pack a van for moving?
Before you begin lugging boxes and large items into a van, you'll need to identify what should go in first. The rule here is to place heavy boxes in to start with and line them against the van's internal walls. From here, you can then work your way inwardly so that the lightest items sit in the middle of the van's storage area - or if needed - on top of the heavy boxes.
To help you get to grips with loading, we share our top 10 tips on how to pack a van in the most efficient way possible:
Distribute the weight evenly - Uneven weight distribution in a van's rear can cause problems with handling and performance when driving. Ensure that heavy items are placed on either side of a van's cargo area so that it doesn't become lop-sided and put unnecessary pressure on just one set of tyres.
Place heavier boxes against the sides - Line the van's walls with heavy boxes first, before you begin loading lighter items. The rule here is to work from the outside in.
Boxes should be stacked on top of each other - If you have many boxes to load, do so one tier at a time. You can stack boxes all the way up to roof height if they are stable and evenly weighted - but make sure they are of a similar size and shape first.
Lighter items should wait until last - Once the heavier and bulkier items have been loaded, light and fragile cargo can go in afterward. These can either be placed on top of heavy boxes (if there's room) or centrally in the middle of the van, where the outer ring of items can provide a firm buffer.
Tie-down furniture - While items like sofas and beds are heavy and less likely to move, it is still recommended to secure them nonetheless. Some vans come with internal ratchet straps and tie-down or tie-up points as standard, so make sure you use them to take full advantage when moving.
Stack chairs to create more space - Larger items such as chairs can take up more space in the back of a van than you may expect. The trick here is to place the first chair upright on its legs as standard, before turning the second upside down and placing it on top of the first - and so on.
Secure fragile items - It's not always possible to pack some of your more fragile items into boxes, such as mirrors. This leaves them open to damage so it's important to not only secure them but provide padding on either side to limit movement as much as possible.
Pack essential items at the end - If you're moving house, make sure you pack the most essential items you need at the very end. You can then ensure they are first to be unloaded when you reach your destination.
Fill the gaps! Any available space left in the rear can leave items vulnerable and at risk of movement in transit. Fill the space with duvets, blankets, and soft furnishings (such as cushions) to limit movement when on the road.
Don't overload the van - Every type of van has a payload capacity and exceeding that weight could cause big problems. Only ever pack a van within its load limits, and ensure you can close and secure the doors properly.
Packing a van is all in the planning and the solution here is to be practical and methodical during the process. Never try and load a van by yourself, so always reach out to friends and family who are able to help you on the day.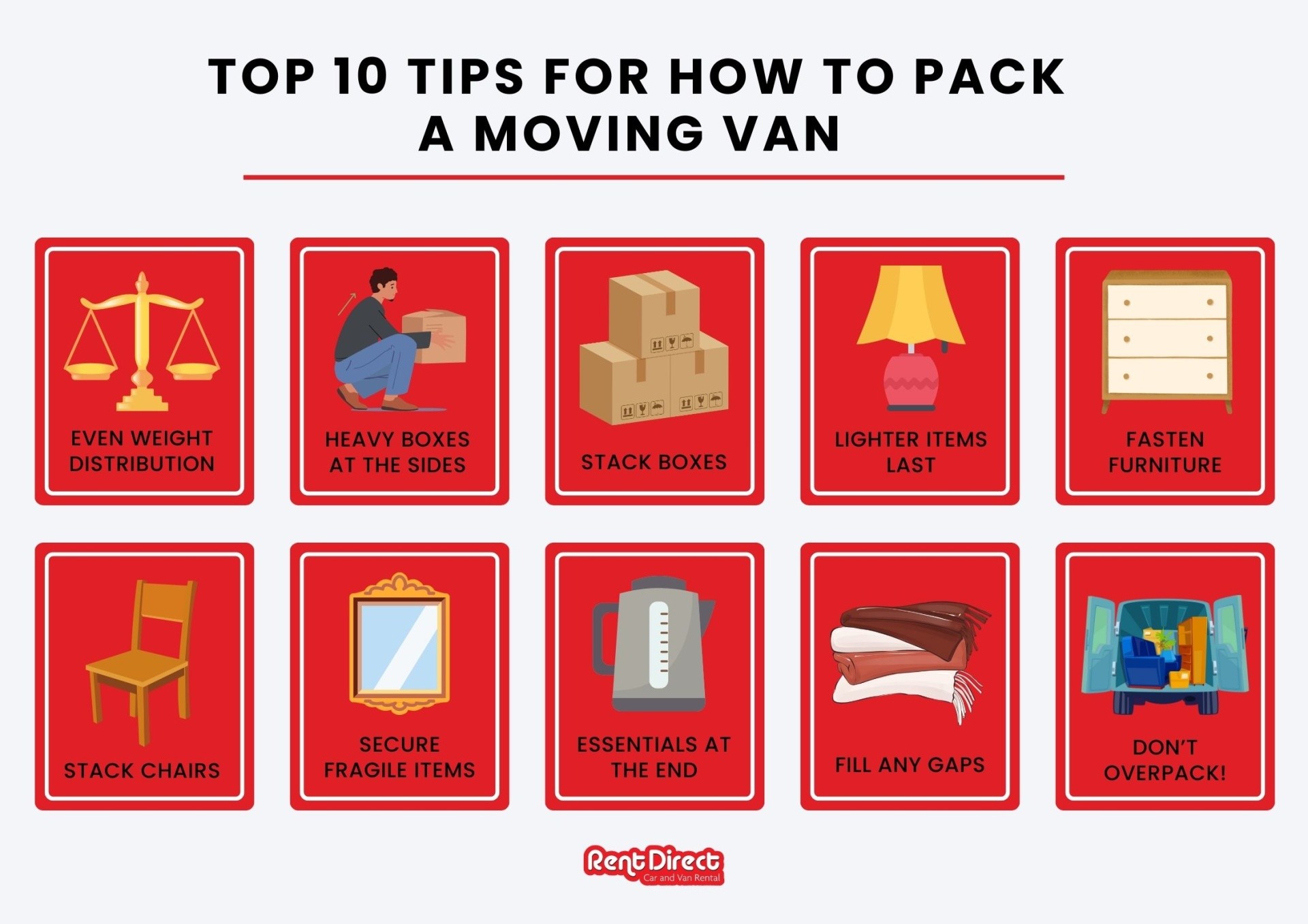 What not to pack in a moving van?
While it's tempting to place everything you own into the back of a van when moving house, there are some definite 'no nos'. Always remember safety first when transporting items, so here is a list (in alphabetical order) of what NOT to pack in a moving van:
Acids and corrosives
Ammunition
Chemicals
Fertiliser
Fireworks
Fire extinguishers
Flammable materials
Gas canisters
Hazardous waste
Lighter fluid
Motor oils and fuels
Oxygen bottles
Paints and paint thinners (such as white spirit)
Poisons and pesticides
Solvents
Most of these are pretty self-explanatory as to why they should not be loaded and transported in a moving van - especially if you rent one! If you do need to transport any of the items listed above, then arrange to have them moved by a professional instead.
Choosing to work with a removals company can have its perks, but there are also downsides too. Do bear in mind that there are specific items they may not be licensed to carry - these may include:
Items considered to be dangerous (such as firearms)
Foods that can perish
Live animals (such as pets)
Plants and trees
Valuable or rare items
The main reason removal companies resist transporting the above items is largely down to insurance reasons - such as public liability insurance and goods in transit insurance. Always check first.
What is the best type of van for moving house?
When looking for a van that can accommodate your house move, the main thing to consider is size. By that, we mean identifying how much you'll need to pack at once and how many trips you may need to make.
While professional removal companies can offer a variety of trucks and vans (and even arctic lorries in some cases), if you're moving and packing yourself, then hiring a van is the next best thing.
In this case, a Luton box van is probably your best option. Some models - like our fleet here at Rent Direct - even come with additional tail-lift equipment to do the heavy lifting for you.
If you're moving house and looking for packing tips, then take a read of our handy blog that will help you make light work of the whole process and includes essential do's and don'ts!
Competitive Luton van hire in East Anglia
The beauty of a Luton box van is that it can be driven on a standard UK car driving licence. In the front cabin, three adults can fit comfortably, so you won't have to go it alone either.
As an established car and van rental company, at Rent Direct we know a thing or two about Luton vans, which prove very popular with our customers. Best of all, our Luton box vans come equipped with a tail-lift as standard, so you can spend less time heaving heavy boxes into the back, and more time on the open road getting to your new destination.
We have six branches located across East Anglia where our expert team is happy to help. If you don't have any questions, why not book your Luton box van online today! But if you're looking for something smaller, you can explore our range of car-derived vans, short-wheelbase vans, and long-wheelbase vans ready to hire right away.