The best hidden Easter eggs in cars
Discover the top 10 secrets that manufacturers sneak into their models
We all love chocolate Easter eggs, but did you know that cars can also have their own kind of non-edible Easter egg? In this article dedicated to the topic, we reveal the hidden secrets that have been snuck into your motor where you least expect it!
Read on to discover our top 10 best hidden Easter eggs in cars for a year-round treat…
What is an in-car Easter egg?
Allow us to explain more about what an 'in-car Easter egg' actually is… An Easter egg is a term used to describe a secretly placed symbol, picture or message. Animated feature films from the likes of Pixar famously place Easter eggs throughout their movies which are spotted by eagle-eyed fans.
Car manufacturers have also jumped on the bandwagon with their own interpretation of Easter eggs that are cleverly hidden on-board.
Why do cars have Easter eggs?
Whether it's a tribute symbol to a historic model, a cheeky pic to make you smile or a message with meaning, in-car Easter eggs certainly create talkability and are designed to do just that.
In fact, you'll be surprised at just how many models of cars have Easter eggs hiding in plain sight. Below, we've listed our top 10 favourites in alphabetical order - have you spotted any of them?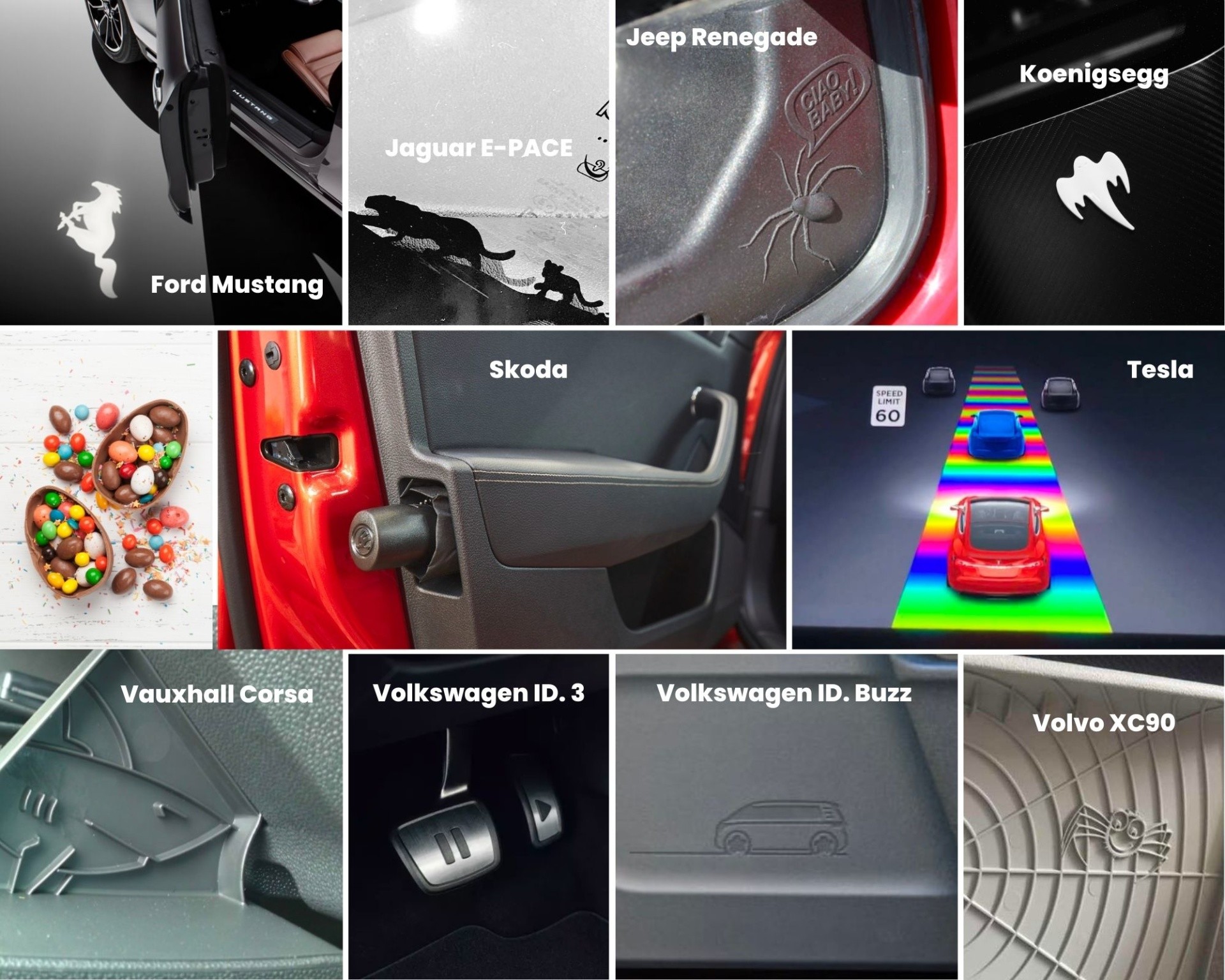 Ford Mustang and its equine-themed Easter egg
The Ford Mustang is known the world over for its thrilling sports cars that really do pack a punch. In tribute to its heavily horse-powered engines, every model of Mustang features an Easter egg surprise in the form of an iconic mustang horse.
All the driver needs to do is open the door in the dark for the galloping illuminated equine to be projected onto the floor.
Jaguar E-PACE and its animal-themed Easter egg
Continuing with an animal theme, Jaguar has included a roarsome addition to its E-PACE models. Spot the silhouette of a Jaguar mother and cub sneaking out from the bottom of the windscreen, which is a purr-fect nod to the car's name.
Jeep Renegade and its spider-themed Easter egg
From animals to insects, Jeep has a surprise of its own lurking where you'd least expect it. Each Renegade model has an eight-legged friend hiding beneath the fuel flap; here it reveals a spider accompanied by its very own 'ciao baby!' speech bubble.
Koenigsegg and its ghostly Easter egg
Supercar manufacturer Koenigsegg hides a haunted surprise on each of its multi-million pound vehicles. Paying tribute to the Swedish-based building where the high-performance cars are made, spot the symbol of a flying ghost on the bodywork.
Skoda's weather-themed Easter eggs
Skoda drivers are in for a treat with not one, but two hidden Easter eggs found in models across the range. From the family favourite Octavia and Superb models, to the newer Kamiq crossover, expect to find a couple of handy gifts to help combat the weather…
Hiding in the flap of the fuel cap is an ice scraper which is a must-have on frosty mornings (the item also doubles-up as a tyre tread gauge). But that's not all, open the driver's door to find an umbrella neatly stored underneath the arm rest for those rainy days - and we certainly have plenty of those here in the UK!
Tesla and its many Easter eggs
Not a company to do things by halves, Tesla models are filled with hidden Easter eggs that reveal themselves via the vehicle's in-car entertainment system. Each of these treats can be activated either by voice command (once you've worked out what to say!) or by discovering what buttons to press on the screen.
Enjoy hours of fun with the digital display by turning your Tesla into James Bond's famous submarine car, drive along the rainbow road for your very own Mario Kart experience, and enable 'Santa mode' to give the impression you're driving Santa's sleigh.
Vauxhall Corsa and its shark-themed Easter egg
The much-loved Vauxhall Corsa conceals an altogether toothier surprise in its models - and it could be lurking anywhere within the cabin. Keep your eyes peeled for a swimming shark where you'd least expect it - including on the lid of the glovebox.
Volkswagen ID. 3 pedals Easter egg
The all-electric Volkswagen ID. 3 is quick to jump on the Easter egg action with its game-inspired surprise. Much like the pause and play buttons on a remote control, the driver's foot pedals mimic the famous symbols of these actions; expect to find two vertical lines on the brake pedal and a triangle on the accelerator pedal.
Volkswagen ID. Buzz and its fun-themed Easter eggs
Not content with the ID. 3 taking all the Easter egg credit, Volkswagen's ID. Buzz model is filled with Easter eggs. Creating talkability and injecting a whole heap of fun into the daily drive, expect to find the following hidden surprises on-board:
Spot the silhouette of an ID. Buzz etched into various locations within the cabin

Discover the smiley face that cleverly disguises a plastic cap

Stop for a refreshing drink on long journeys and make light work of opening bottle tops thanks to the hidden bottle opener

Keep your eyes peeled for a handy ice scraper
Volvo XC90 arachnid-themed Easter egg
The Jeep Renegade isn't the only model to hide a spider-based surprise - the Volvo XC90 stows an eight-legged friend of its own. To find the little fella, lift the lid of the car bin located behind the third row of seats.
Rent a car without any hidden surprises
While we can't promise that our rental cars come with Easter eggs of their own (but it's worth a look just in case!), we can confirm that there aren't any nasty surprises! By choosing Rent Direct you are doing just that - renting, direct.
Because we own all of our vehicles, we don't deal with any hidden 'middlemen' which means we can offer you the very best prices. For this reason, we're not on comparison websites either - simply get in touch today for a personalised quote on car, van or MPV hire during a short term or long term basis.